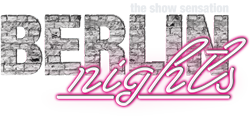 "I am impressed, touched, enthusiastic. What a great show!"
- Audience comment, Facebook
"
All artists are fixtures on the Berlin scene. A real underground production."
– Der Tagesspiegel
"I've rarely been so amazed and laughed so much: so much artistry, so much comedy, so much fun."
– 1000 Things to do in Berlin
"That was so much more than I expected."
- Audience comment, Facebook
What a show, what a time!
From 24.03. - 09.04.2017 we presented our theatre show variety concert "BERLIN NIGHTS" at the Stage Theater on Potsdamer Platz. Over the whole evening, fifty artists told the story of an old Berlin factory building in four completely different, typical Berlin nights on the stage. Contemporary dance, piano, comedy, acrobatics, breakdancing, hip-hop, variety and live music melt into a symbiosis of pure entertainment and unique moments.

Samuel's Entertainment created, financed and oversaw the production from the very beginning, through the preparation and detailed planning phases, and artistic, technical and rehearsal management, to the last guest in the hall at the final performance. A full service production.


Production management:
Björn Scheffler
Art director:
Philipp Kohn
Technical manager:
Marcus Kolk
Participants:
DJ Tomekk, Nader Rahy & Band, Renee, Timothy Thorson, Fothamockaz, AirDit, M.I.K Family, Tridiculous,
Pedram Yousefi, Zanshin, Samuel's Crew, Florent Rabaté, Berlin Showgirls, Sascha Thies
and a select cast of twelve women from Samuel's Dance Hall